Detaljer

Kategori: Articles
Opprettet 28. januar 2011
Av Jan R. Steinholt, Revolusjon
The popular revolts for bread, democracy and national self-determination create despair among the imperialists and their Arab puppets.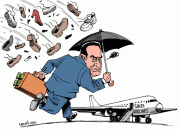 The revolt in Tunisia was the spark that started a fire that is now spreading across North Africa and eastward into the core Arab countries. The popular masses and the youth in the more or less despotic Arab regimes have overcome their fear of state violence, and they will not settle for empty words and promises.

Now the battle is centered on the very pivot of the U.S. strategy for control of the Middle East region; Egypt.